John Pigott and James P Jackson have left Jacob speechless with their amazing solution to one of his positions
IM Jonas Rosner won the first prize at the Quiz night
The first installment of the Quality Chess Academy has hosted 4-10 November 2018. The trainers were Grandmasters Boris Gelfand and Jacob Aagaard.
As this was the first camp, we wanted to acquire some experience before we opened up for a larger audience, so we had limited the participation to the following:
Grandmasters
International Masters
Women Grandmasters
Players with a rating of 2300 on a FIDE list at some point during 2018
Some of the participants were
GM Adhiban Baskaran India 2671
IM Renier Castellanos Spain 2505
IM Jonas Rosner Germany 2424
John Pigott England 2386
FM James P Jackson England 2380, James is now an IM
Krishan Jhunjhnuwala US 2340
Alexander Longson England 2329
After our trial run November 2018, where participation was somewhat limited (giving us a chance to learn how to run a camp), we organized a camp for players of all levels, 8-14 May 2019.
Grandmasters Jacob Aagaard and RB Ramesh were our coaches.
The camp mainly consisted of work in groups, based on rating. Our promise was that the camp will be designed to benefit grandmasters and club players alike. You can find the schedule below and you need to remember that not everything was mandatory, but no-one listened!
The dates were carefully chosen to make it possible to participate in nearby GM/IM Norm Heraklion Tournament and Heraklion 26th OPEN, both 29/4 – 7/5/2019, and Hersonissos Open 15-23/5, which was taking place at the same hotel as the camp. More details about the tournaments on the pdf file here, the Cretan Chess Tour website here or you can just email the organiser, Kostas Klokas, on klokas@heraklionchess.com.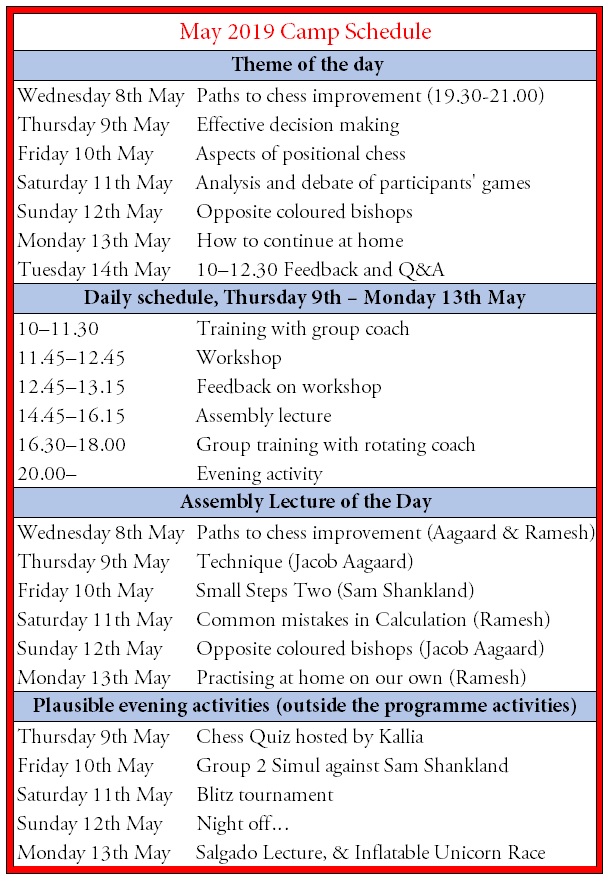 Some of the participants were
GM Sam Shankland, USA
GM Iván Salgado López, Spain
GM Jaime Santos Latasa, Spain
GM Miguel Santos Ruiz, Spain
GM Pier Luigi Basso, Italy
GM Stany GA, India
GM Noël Studer, Switzerland
GM Demuth Adrien, France
IM Flom Gabriel, France. Gabriel became a GM a few months after the camp
IM Megalios Konstantinos, Greece
IM Christopher Woojin Yoo, USA
IM Konstantinos Anagnostopoulos, Greece
FM Dudin Gleb, Russia