After our trial run November 2018, where participation was somewhat limited (giving us a chance to learn how to run a camp), we are now organizing a camp for players of all levels, 8-14 May 2019.
Grandmasters Jacob Aagaard and RB Ramesh will be our coaches.
The camp will mainly consist of work in groups, based on rating. Our promise is that the camp will be designed to benefit grandmasters and club players alike. You can find the schedule below and you need to remember that not everything is mandatory!
The dates are carefully chosen to make it possible to participate in nearby GM/IM Norm Heraklion Tournament and Heraklion 26th OPEN, both 29/4 – 7/5/2019, and Hersonissos Open 15-23/5, which is taking place at the same hotel as the camp, Hotel Lyttos. More details about the tournaments on the pdf file here, the Cretan Chess Tour website here or you can just email the organiser, Kostas Klokas, on klokas@heraklionchess.com.
Registration for May 2019 is now closed.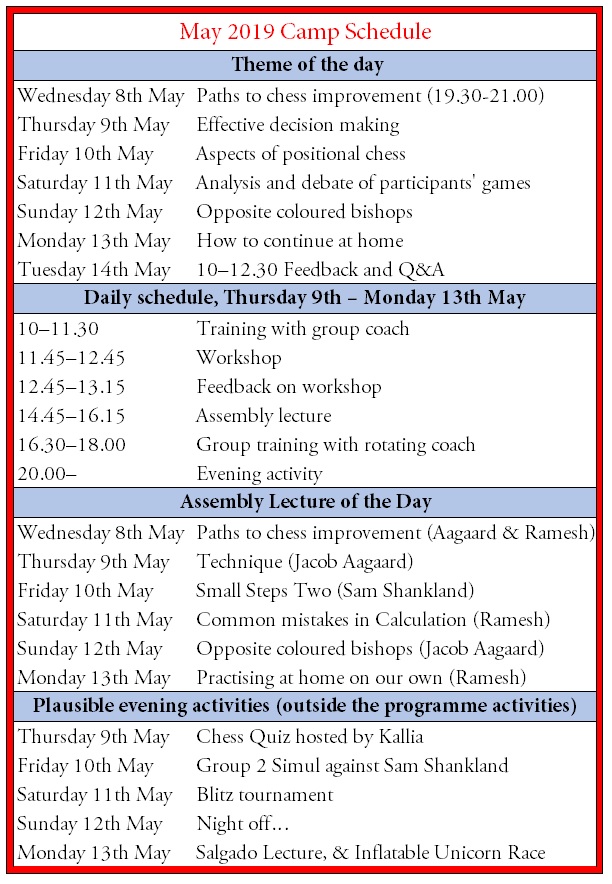 Theme of the day
Wednesday 8th May
Paths to chess improvement (19.30-21.00)
Thursday 9th May
Effective decision making
Friday 10th May
Aspects of positional chess
Saturday 11th May
Analysis and debate of participants' games
Sunday 12th May
Opposite coloured bishops
Monday 13th May
How to continue at home
Tuesday 14th May
10–12.30 Feedback and Q&A 
Daily schedule, Thursday 9th – Monday 13th May
10–11.30 
Training with group coach
11.45–12.45 
Workshop
12.45–13.15 
Feedback on workshop
14.45–16.15 
Assembly lecture
16.30–18.00 
Group training with rotating coach
20.00–
Evening activity
Assembly Lecture of the Day
Wednesday 8th May
Paths to chess improvement (Aagaard & Ramesh)
Thursday 9th May
Technique (Jacob Aagaard)
Friday 10th May
Small Steps Two (Sam Shankland)
Saturday 11th May
Common mistakes in Calculation (Ramesh)
Sunday 12th May
Opposite coloured bishops (Jacob Aagaard)
Monday 13th May
Practising at home on our own (Ramesh)
Plausible evening activities (outside the programme activities)
Thursday 9th May
Chess Quiz hosted by Kallia
Friday 10th May
Group 2 Simul against Sam Shankland
Saturday 11th May
Blitz tournament
Sunday 12th May
Night off…
Monday 13th May
Salgado Lecture, & Inflatable Unicorn Race